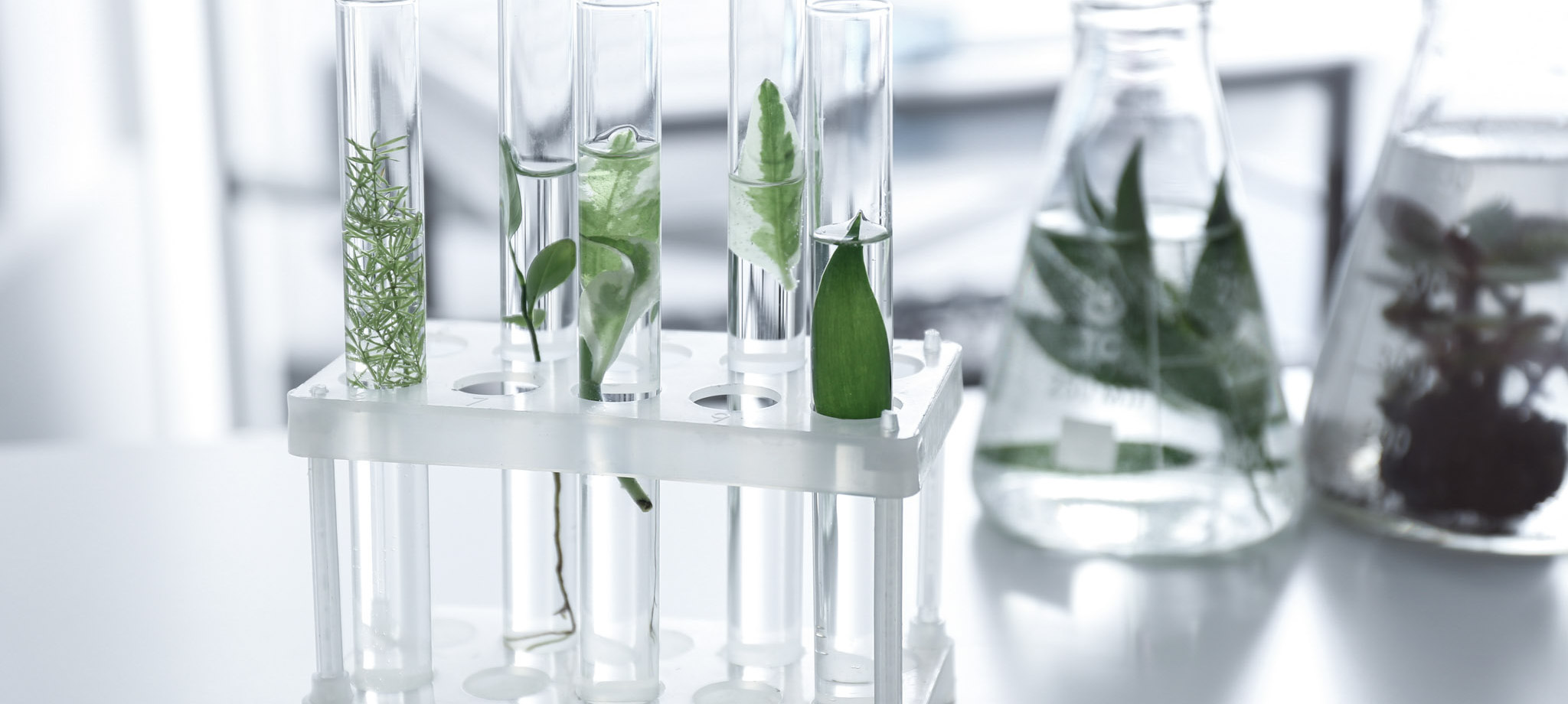 Biotechnology
High-precision temperature control solutions for biotechnology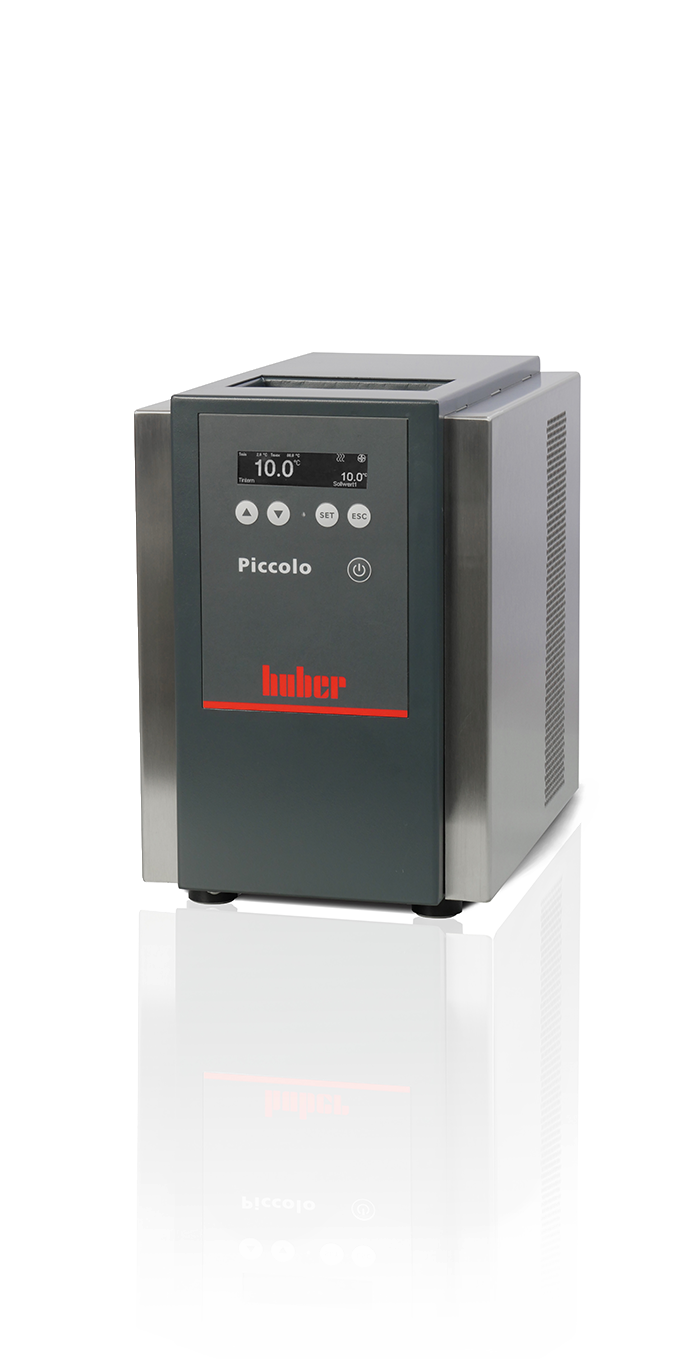 Glass reactors
Glass jacketed reactors are a common tool in the chemical and pharmaceutical industries. The quality of temperature control depends heavily on the speed at which the jacket temperature can be changed. For best possible heat transfer rates, unistats produce a high delta-T between jacket temperature and reactor contents. Glass reactors are inherently sensitive to pressure (typically the maximum allowable jacket pressure is 0.5 bar) and thermal shock (caused by the temperature difference between the jacket and the reaction mass). Uni¬states have variable pressure control (VPC) and a delta-T limit to protect against both. In addition, the "process safety" function ensures that the pump and cooling system continue to operate in the event of an overtemperature shutdown. This can prevent overheating of the reactor contents during an exothermic reaction, for example.
Enameled reactors
The metal component of the reactor has a different coefficient of expansion than the glass liner. To protect against bursting of the glass due to too rapid heating or cooling, the ramp rate can be set and controlled to change the temperature of the cladding at a non-critical rate. Alternatively, a "dwell" time can be programmed to allow the glass to adjust slowly.
Stainless steel reactors
These reactors are robust and are generally not subject to damage from jacket pressure or rapid thermal changes.
Flow reactors
Flow reactors are increasingly used in research and production. Huber devices from the simple CC-304B to large unistats are used in this application. Some of these reactors have high flow resistance. Unistats provide sufficient pressure to ensure maximum heat transfer flow for the best possible temperature control in the reaction zones within the flow reactor.
Pressure reactors
Unistats are capable of extremely fast temperature changes, e.g. to control the high-energy reactions often carried out in pressurized reactors (glass/metal). The Unistat T series is often used for such high temperature reactions. Due to the hydraulic seal, no vapors are generated from the heat transfer fluid. To protect the heat transfer fluid from environmental influences, a special sealing kit is available for overlaying with nitrogen gas.
Bioreactoren
Often bioreactors can only use water or water/glycol as a heat transfer medium. After a process, the bioreactors must be cleaned and sterilized "Cleaned In Place" (CIP) and "Sterilised In Place" (SIP). These routines are performed at temperatures up to 120 °C with steam (The temperature range of the Huber Unichiller T-H can be extended to +120 °C). Before this can be done, the jacket of the bioreactor must be drained of the water/glycol. A series of valves can be used to drain the reactor jacket into a storage tank and after completion of the SIP. The system can be refilled by starting the chiller pump.
Controlled freezing & thawing
Some preparations must be frozen at a predefined speed and then thawed at a predefined speed. The built-in programmer in the Pilot ONE allows the creation of several programs, which can be stored either in the memory of the Pilot ONE or on a data carrier via the USB interface. The creation of a program is very flexible and yet extremely easy to implement, thanks to the simple graphic display. The frozen blocks of medical preparation can be thawed in a special bath. These baths are tempered by a programmed Unichiller. The Unichiller "eo" versions (externally open) allow direct contact of the heat exchange medium (water-glycol mixture) with the baths for efficient heat transfer. Unistat technology can also be used for freezing and thawing applications.
Glove boxes
Temperature control for various applications in the glove box can be achieved with unistats, chillers and immersion chillers from the TC range.
Rotary Evaporator
Huber recirculating chillers have a small internal volume so that the cooling power generated is more concentrated on the application. Instead of wasting cooling capacity on a huge reservoir, other applications can be connected.
Rheometer, Viscometer
Rheometer, viscometer To ensure accurate and constant temperature control of a sample during the test, the Mini¬stat or a device of the series "K" is used. These devices are ideal for the control of viscometer samples: compact, flexible and a thermal stability of 0.02 K.
Analytical laboratory equipment
Various analytical laboratory instruments such as X-ray diffractometers, mass spectrometers, etc. produce heat that must be effectively dissipated. Huber chillers as a source of external cooling with their compact design and small footprint save valuable space in the laboratory.
Laboratory Mills
The mills grind samples down to the nanoscale. The grinding action generates heat that must be dissipated. This installation is possible with the Unichiller 045T.
Whether heat exchanger, sensor options or automation - we design individually suitable solutions tailored to your applications.
Do you need support in selecting the right product or are you looking for a customised solution for your application? Our product specialists will be happy to advise you personally and answer your questions about our temperature control solutions.
Hinweis: Sie verwenden den Internet Explorer, für den es seitens des Anbieters keine Updates mehr gibt. Es kann zu Darstellungsproblemen kommen. Für eine optimale Darstellung unserer Website nutzen Sie bitte einen aktuellen Browser wie Mozilla Firefox, Microsoft Edge oder Google Chrome.